"Creation Myth" is a series of psychedelic science fiction novels.
The first novel: "A Spark at the End of Summer", has been finished.
A second novel: "These Fall Colors Must Rot", is now available.
FALL HARDCOVER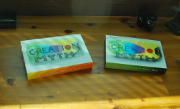 This is a limited edition print of the sequel, with a matching green spine!
ORDER HARDCOVER
SPARK SOFTCOVER
Featuring cover art by: Luke Brown, Joanna Kleczar, and Cotovanu Andrei!
ORDER SOFTCOVER
SPARK HARDCOVER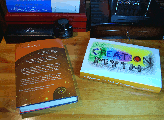 More expensive, but makes for easier reading, as it stays open better. The hardcover is more durable than the softcover, with a detachable sleeve.
ORDER HARDCOVER